Elegant Art and Fine Art is the epitome of a finer eye for the art boasting of its portrayal for the value of fine art. Elegant Art Gallery offers a very friendly way to purchase the exquisite drawings, paintings, prints as well as photographs from a variable selection at a very pocket friendly price giving variety of options that suits your preferences.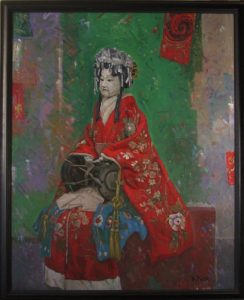 1) Awaji Japanese Puppet Dolls gShizukagozenh:   This piece of art carries more of Japanese cultural and historical heritage that is both educative and fascinating.   The molding of the doll merges the traditional form of the doll with some modern aspects to introduce a new world for the doll and add a sense of captivity and engagement to it.  It contains a beautiful and artistic Japanese story that is interesting and a piece of art on its own.  The red oil paint with the size of 69.48×57.08 inches measurements doll was molded by terasaki who expresses his fascination in classical and religious heads, costumes, and forms of puppet dolls.
2) Better world:   Sunsets are the golden opportunities that we often fail to appreciate. When they are put on canvas with a little touch of the environment that is inclusive the majestic cloudy sky, water bodies with touches or ripples and the greenery of the trees distracted by the yellow of the setting sun, that is a winner.   Peter Max does justice to this golden magnificent 24×18 inches orange acrylic art giving it the best tropical scene that a painting could offer.  Tropical sunsets don't get better than this when it comes to fine art.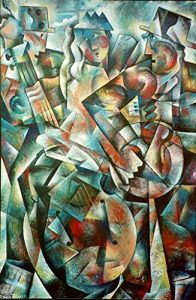 3) Birthday Girl:   If you have that artistic eye for the oil on canvas kind of art, then Jessica Rice of Belgium just has the right birthday girl for you which is a recreation of the 1984.   The size of this painting is 72×48 inches and works perfectly for any space to entertain and engage your visitors and friends.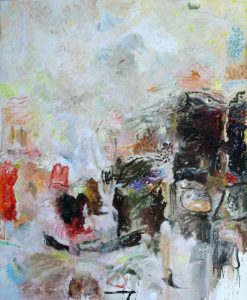 4) Bright Air:  These kinds of paintings are quite engaging from the first glance in a way that they demand attention given the blend in of the color verities between the bright and dark colors is spectacular while the included figures have questions they can ask to the admirer on their own.  This makes it to offer the perfect chit chat be it at the diner or any event before comfortability is achieved. This oil art that was drawn by Sam Scott has a measurement of 80 by 62 inches and would very much fit in any space.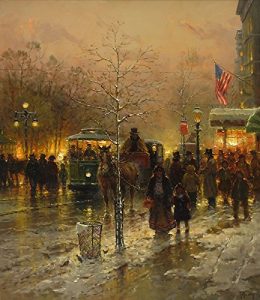 5) The Golden Era:    From the painting we are shown a life state that was mostly common to the times when not much evolution has occurred but there was just enough for the survival and to enable accomplishment of great tasks.   The G. Harvey's 36×30 oil art painting portrays the impression of outlook of busy streets during the classical period.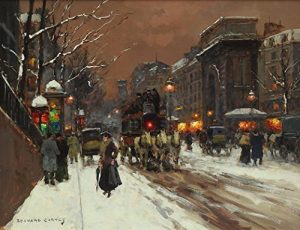 6) Porte St Martin:   Edouard Cortes captures the busy European street on canvas with this oiled form of art.  The well-defined art of winter like environment that incorporates the infamous Briton buildings, shaded tress, roads that are flooded with snows, horse cats as well as people who are dressed warmly and in umbrellas has never looked so well like real life photographs.   The interesting part about this painting is the color of the sky.It's must have piece of art.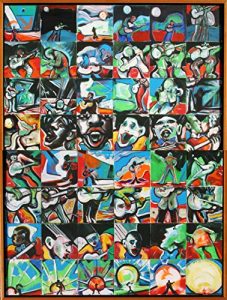 7) Jazz Band in 48 Paintings:  This oil painting on canvas has been expressed by American artist Billy Dee Williams in a way that captures all shades of love and music merged together in emotive and warm colors.  It has a nice thin wooden frame for display and nice flawless finishing with a measurement of 96x72inches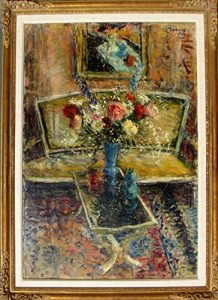 8) My Living Room In Paris:  Sometimes Paris isn't all about love and romance, sometimes it requires a little depth in thinking that will land you complicated flowers in a vase, still life or other artistic impressionistic ideas.   Dimitri Berea achieves this aspect in this oiled art of 51×38 inches measurement.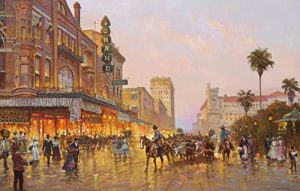 9) Grand Opera House:  The grand opera here is just the building in San Antonio, Texas while the main impression of the 46×72 inches oil art painting is the old cowboys of the west by Xiang Zhang.  The painting is more precise on the people and the environment than the house itself.
10) O From Hollywood Suite:   This art in finesse is for those in pursuit of Hollywood as a theme in relation to pop art as a contemporary form of art.  Mel Ramos uses oil on canvas art with 39.5×30 inches measurement to feature Hollywood's most popular actresses posed with the Hollywood sign letters, for this painting is the O.
11) Secretariat:   This signed oil on canvas piece of art by Johnson is rich in detailed artistic portrayal of the jockey#3 rider and his horse.  The detail put in the dirt and kicks to show speed is insane and the color balance is well done.   The thin ornate wooden frame gives it a nice finish for display.
Conclusion: The value of fine art especially when portrayed in well done paintings is a rare thing that Elegant Art Gallery takes pride in. the gallery has a collection of wide varieties that tells tales of classical, cultural, contemporary, environmental, romance among others.  Visit the ElegantArtGallery.com to have a taste of fine art at its best.
Written by: Leggacy